Things you should know about water well drilling and water well repair: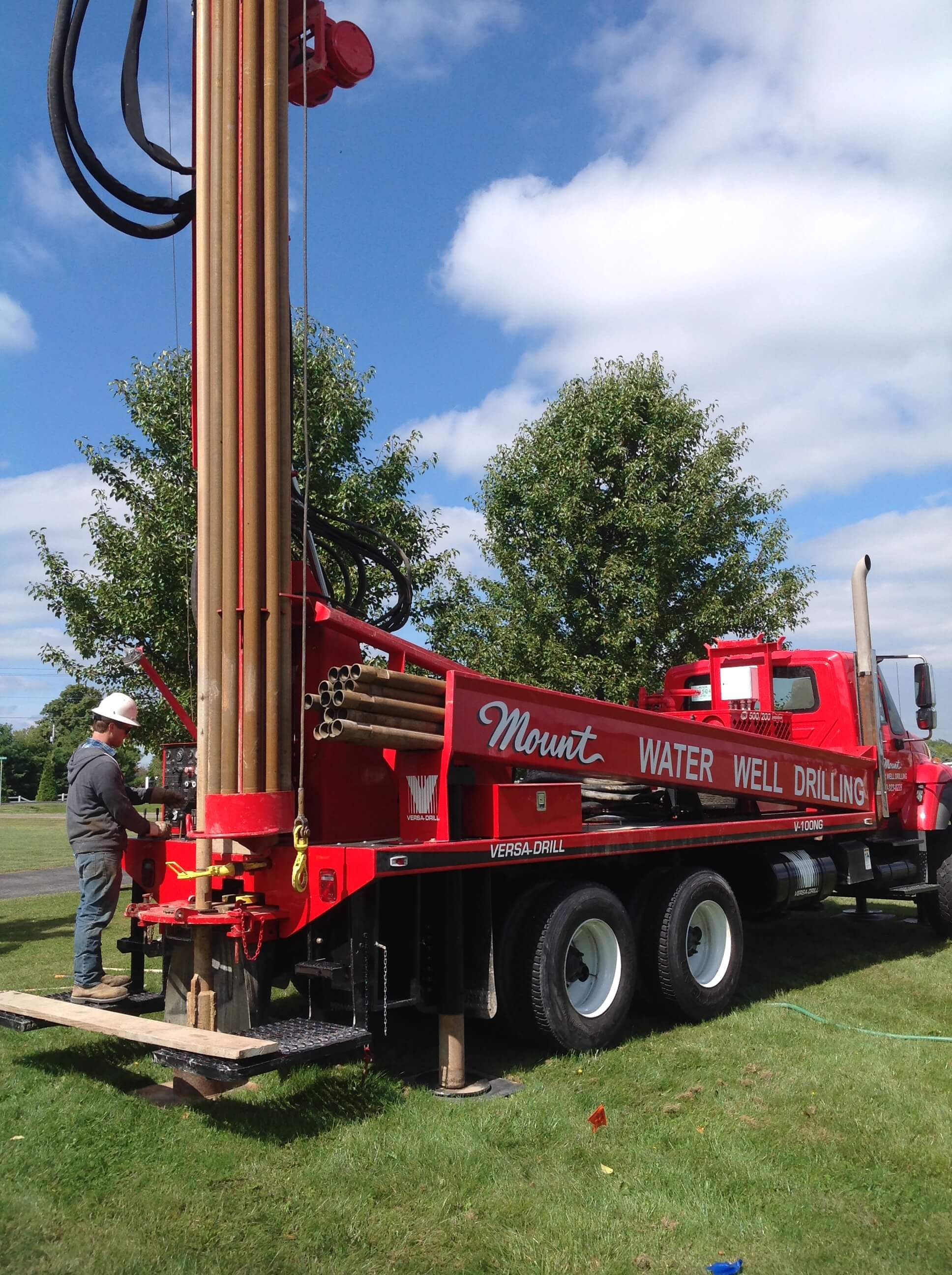 Drilling domestic water well V100 Rotary rig
Check out water availability
Check out water availability in an area before you purchase property by contacting us at 740-323-0228 or get information from the Ohio Department of Natural Resource's Division of Water website at www.dnr.state.oh.us and click on Division of Water links.
PLEASE NOTE: Enter your county and approximate address in the DNR site.
Well Depth
Wells in Licking and surrounding counties vary in depth from 25′ to 550′. An average depth is between 125-150′.
Water wells in central Ohio come from either rock formations or sand and gravel formations.
Water wells in central Ohio come from either rock formations (sandstone, shale, limestone, etc.) or sand and gravel formations. Mount Water Well Drilling uses mostly rotary type drilling for rock formations. In these instances, plastic casing is generally used. Annular space is grouted with betonite. For sand and gravel formations, a cable (or percussion) rig is normally used along with steel casing.  A stainless steel well screen is used to develop these formations.  Stainless steel well screens provide for maximum formation development and out perform PVC screens in every way!
Steps to getting a well drilled for a residential property: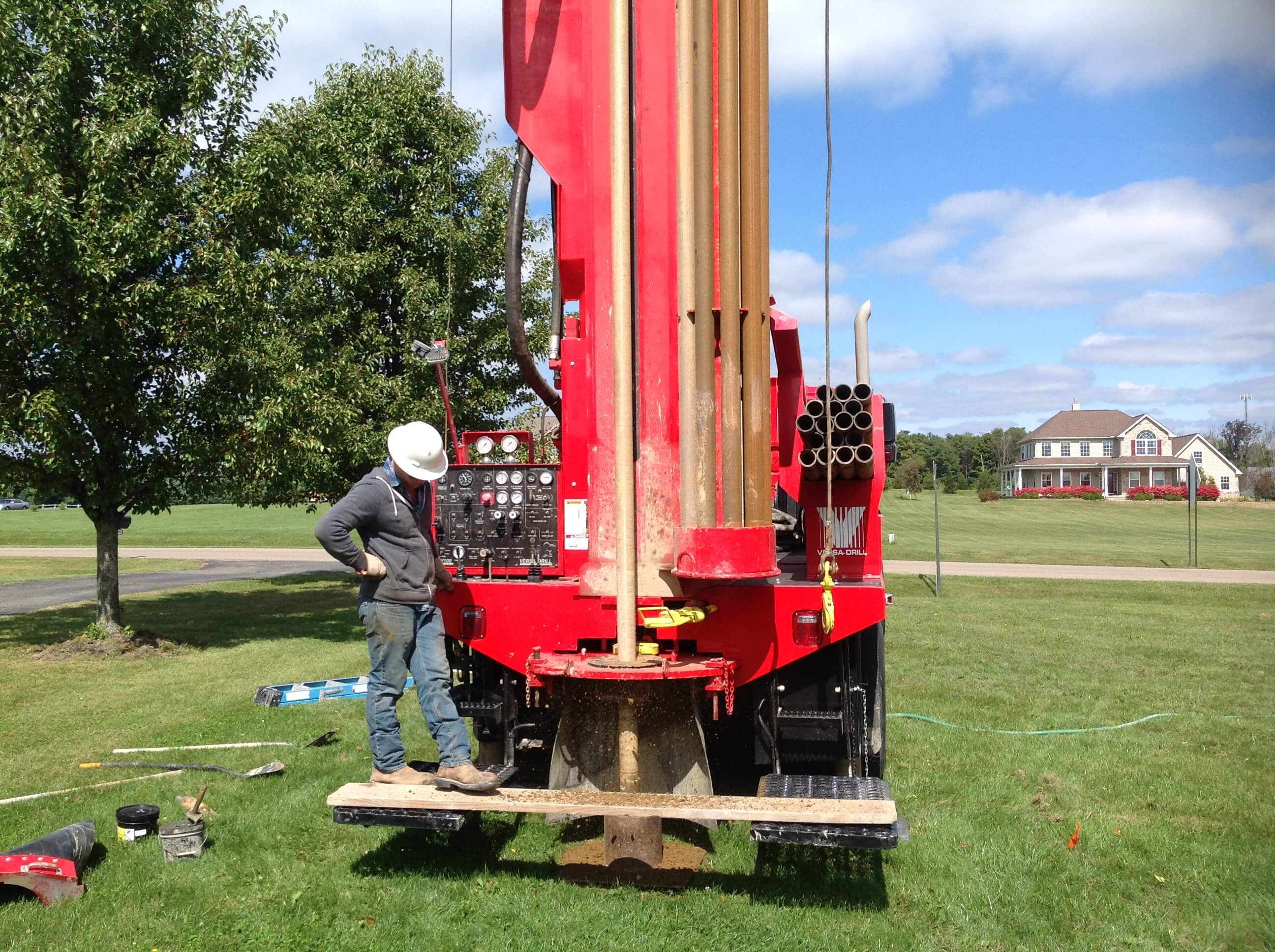 Domestic water well V100 Rotary rig drilling
Call us for a free estimate and information on the wells in the area you wish to drill.  We can send you a written estimate or meet you at the site and give you an estimate in person.
Obtain a permit from your county Health Department.  Before doing this, we highly recommend meeting an inspector from your local Health Department at your property to determine locations and feasibility of water well and septic in relation to your home location.
Meet with us at your site to determine location and mark it for drillers.  We will need a signed estimate and contract before drilling is commenced.
Steps to getting a well drilling under EPA Jurisdiction.
(Any system that serves at least 25 people 60 days out of the year)
Things to keep in mind when working with the EPA:
Because of regulations, requirements, and plan drawings, these wells and water system are more expensive than a conventional system under your local Health Department's jurisdiction.
These systems take longer to get installed because of the extra regulations required and drawings.
Detailed plans (these can be done by Mount Water Well Drilling) have to be drawn and submitted before the system can be installed for new well approval. Once submitted, the approval usually comes within 30 to 60 days.
EPA requires a new well perimeters lab analysis to be done once the well is drilled and a 24-hour pump test and chlorination.
Call us for information on wells in your area.
An EPA inspector will need to meet at the site with the property owner and driller to determine the site location. After that, a site approval letter will be issued by the EPA. Once that letter is issued, drilling can commence.
At Mount Drilling we drill water wells and offer water well repair.  We also specialize in water treatment systems by installing and maintaining everything from water softeners to commercial filtration systems.  Give us a call for a quote.
Ready to talk to a water well specialist?
Mount Water Well Drilling
Please note:

 

Please allow us at least 24 hours to respond to your email inquiry.
Email may not be used to cancel service.
Any cancellations MUST be done over the phone.
Water Well Service Areas in Ohio:
Licking County – Newark, Heath, Granville, Johnstown, New Albany, Hebron, Buckeye Lake, Thornville, Pataskala, Reynoldsburg, Utica, Hanover, Gratiot, Hartford, St. Louisville, Kirkersville, Alexandria.
Franklin County –  Columbus, Bexley, Canal Winchester, Dublin, Gahanna, Grandview Heights, Grove City, Hilliard, New Albany, Pickerington, Reynoldsburg, Upper Arlington, Westerville, Whitehall, Worthington, Groveport, Obetz. (740) 527-4025
Fairfield County – Lancaster, Amanda, Baltimore, Bremen, Buckeye Lake, Canal Winchester, Carroll, Lithopolis, Millersport, Pleasantville, Rushville, Stoutsville, Sugar Grove, Tarlton, Thurston, West Rushville.
Hocking County – Logan, Buchtel, Laurelville, Murray City.
Muskingum County – Zanesville, Adamsville, Dresden, Frazeysburg, Fultonham, Gratiot, New Concord, Norwich, Philo, Roseville, South Zanesville.
Knox County – Mount Vernon, Centerburg, Danville, Fredericktown, Gambier, Gann, Martinsburg, Utica.